Introducing the Life Fitness Discover SE4 Console—a state-of-the-art console that captures the attention of exercisers, provides a multitude of immersive workout experiences and gives fitness facilities the power to create custom-branded content.
Connectivity is at the heart of Discover SE4. Exercisers can seamlessly sync a smartphone, tablet or other device using Bluetooth or NFC technology.
Through Halo Facility, you can enable access to more than 500 Life Fitness On Demand+ fitness experiences and facilities can create custom-branded content that appears on the console.
24" AND 16" DISCOVER SE4 CONSOLE
A large, 1080p touch screen employs cutting-edge technology for an incredibly responsive user interface. The 24" screen (also available in 16") is both intuitive and stylish and allows users to choose the cardio experience that's right for them.
DISCOVER MORE, DISCOVER SE4
GET THE MOST FROM YOUR CONSOLE
Motivational messaging, a variety of Life Fitness On Demand+ workouts, insights into machine usage and preventive maintenance reminders – all enabled via Halo Facility. We empower you and your staff with data, keep you connected to exercisers and make it easier for you to manage your facility in one platform.
ERGONOMIC RACING HANDLEBARS
Handlebars are designed to offer cruising, hybrid and race positions. The deluxe base offers integrated resistance controls, to make in-workout changes easy, and elbow pads for added comfort.
Easy adjustment for a fine-tuned and ergonomically sound seat position. Wide, self-leveling pedals with simple buckle straps allow exercisers to get on and go.
Integrity+ Cardio Upright Bike

Deluxe Racing Handlebars, egonomic design w/elbow support

Improved Comfort Curve™ Seat

Self-Leveling Wide Ride™ Pedals

6.56″ x 5.5″ (16.7 cm x 14 cm)

Integrated Accessory Tray

Arctic Silver, Titanium Storm, Black Onyx, Diamond White, Smooth Charcoal

42 Fine-Tuned Seat Adjustments w/easy to reach height adjustment lever; Lowest: 18.25″" Highest: 31.5″" Delta: 13.25″" Adjustment 14″

Generator Drive System with 8-Ribbed Poly-V Belt resistance system

Hybrid Eddy current brake with brushless internal generator for low drag and high power capability

Single stage drive with self-tensioning idlers for minimal mechanical drag and low maintenance

Integrity D and S: North America: 120V, 20A outlet with dedicated line, neutral, ground wires and dedicated circuit breaker, Japan: 100V, 20A; International: 230V, 10A outlet with dedicated line, neutral, ground wires and dedicated circuit breaker, Japan: 200V, 10A; Discover Consoles – 24V, 3.75A (90W) Attachable TV- 24V, 2.5A (60W) SL Non-Treads, Optional Power – 24V, 2.5A (60W)

Length 41.5″ (105cm), Width 24.5″ (62cm), Height 54.5″ (138cm)

Shipping Configurations (for non-installed purchases) (L x W x H)

63″ x 27″ x 39″ (160.02 cm x 68.58 cm x 99.06 cm)
CONSOLES FOR EVERY EXERCISER
Consoles for every budget and exerciser's needs.
WHICH SERIES IS RIGHT FOR YOU?
Upright bikes for every budget and exerciser's needs.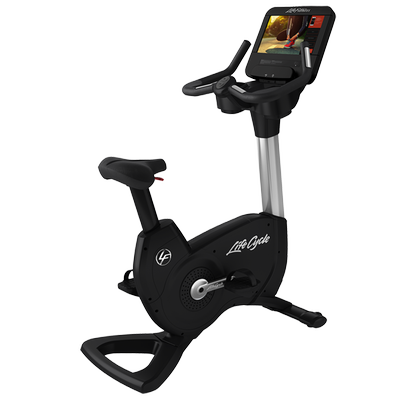 ELEVATION SERIESLIFECYCLE® UPRIGHT EXERCISE BIKE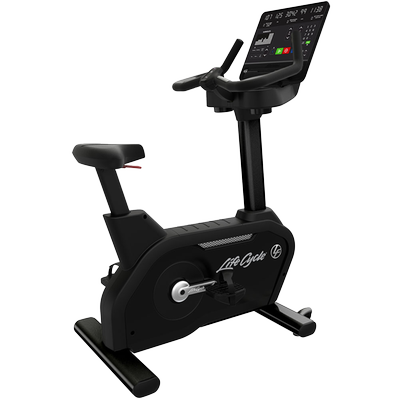 INTEGRITY SERIESLIFECYCLE® UPRIGHT EXERCISE BIKE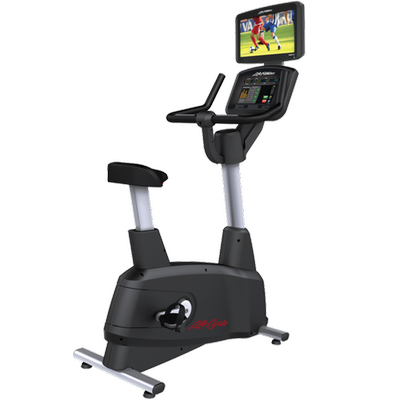 ACTIVATE SERIES LIFECYCLE® UPRIGHT EXERCISE BIKE
Exceptional standardized fitness education products including live, web-based and on-demand learning.
REIMAGINE YOUR EXERCISE FACILITY
Discover how Life Fitness transforms facilities to create memorable experiences for your exercisers.
LOOKING FOR HOME PRODUCTS?