15" STORAGE DEPTH
15" (38.1 cm) storage depth is best for space constrained weight rooms that can't bolt down HD Athletic Pro Perimeter.  
21" STORAGE DEPTH
21" (53.3 cm) storage depth provides more space between the Training Upright and the Storage Upright, which creates more room for bench depth and spotter access.  
91" (231.14 cm) OR 86" (218.44 cm) HEIGHT
Why two different height options?
Each HD Athletic NX Rack training upright can fit in rooms with a standard 8′ (2.44 cm) ceiling. Create the perfect combination to match ceiling height limitations and user height requirements.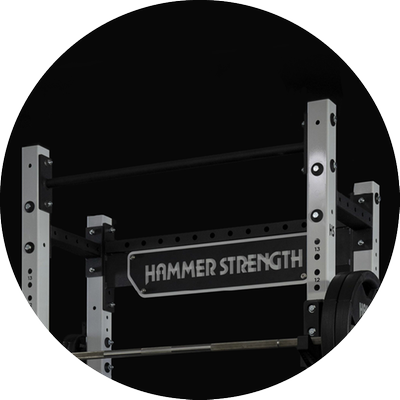 The most traditional of all pull-up bars. The Monkey Bar has high versatility and is the lowest cost option. The bar is 1.25" in diameter and uses a high-wear, textured paint to enhance grip and extend the finish life.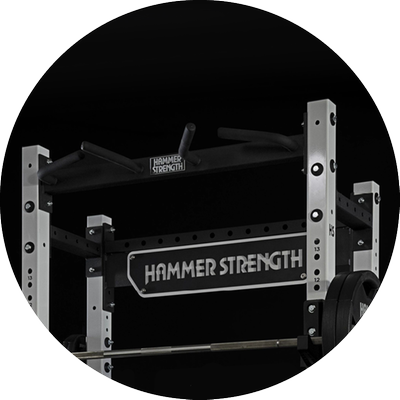 A Hammer Strength classic, the 2-Handle pull-up bar features 1.25" handles in mixed configurations. This pull-up option features grips on each handle and embodies one of Hammer Strengths' true design philosophies: supreme ergonomics.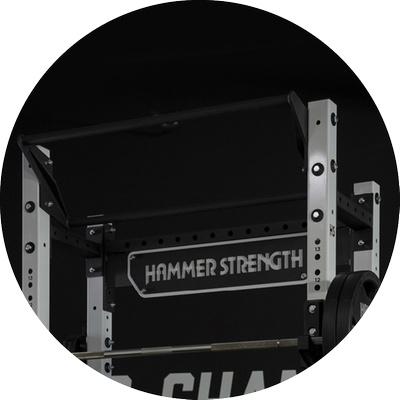 Maximize space with the Offset Bar. With two 1.25" textured pull-up bars, this option provides both high and low pulling points with a 9" separation to compensate for lower training uprights.
The Super Duty Xmember adds structural rigidity to your Rack and serves as a mount for custom signs.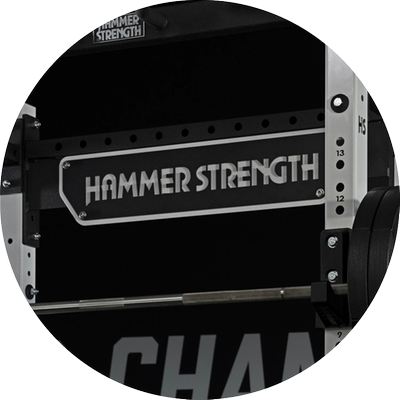 Make your Rack stand out with a Hammer Strength sign. The backer plate is the same color as the uprights and the front plate is high-wear charcoal for color contrast.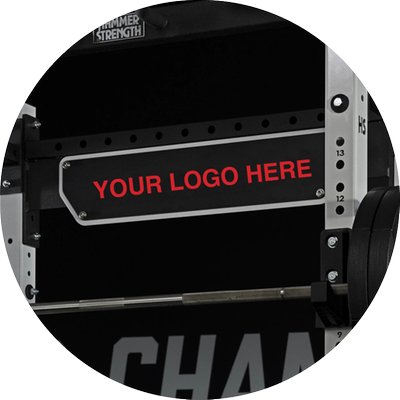 Looking for custom branding opportunities on your Rack? Look no further. Our Custom Signs can be made using laser cuts, vinyl stickers, or a combination of the two.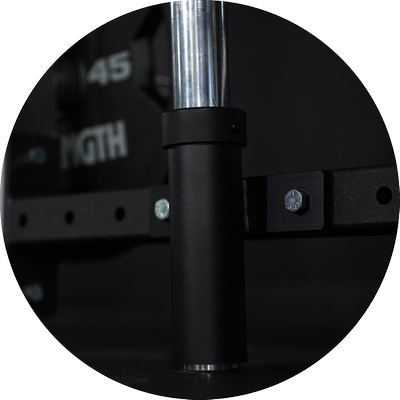 A convenient, low-profile bar storage solution. Inside the sleeve of each Low Bar Storage is a plastic guard to protect your bar when dropping it into the storage cylinder. The cylinder is angled slightly away from the Rack to ensure the bar can not contact the rack and damage paint.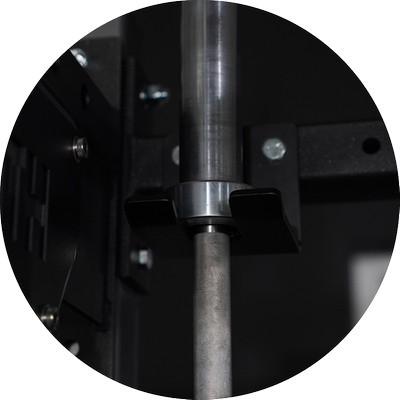 Hanging Bar Storage holds the barbell by its sleeve and is finished matte charcoal powder coat. This solution can be mounted on any Xmember.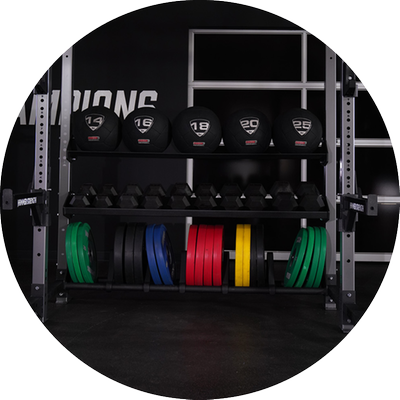 Add any 72" Storage Members from HD Athletic to connect your HD Athletic NX Racks.
Available options include:
– 2 Pipe for bumper plate and ball storage,
– Accessory Tray for kettle bells and soft accessories,
– Dumbbell Tray, and
– Stability ball storage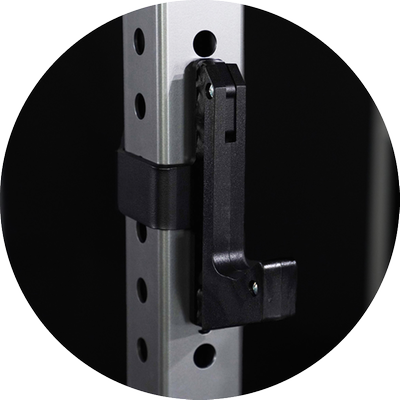 The Standard Bar Support is a welded 3/8" plate protected by an injection-molded urethane cover for bar protection. The charcoal finish is a durable matte powder coating that includes paint guard tape to help protect the training uprights.
The profile of the landing and resting zone are ASTM and EN compliant.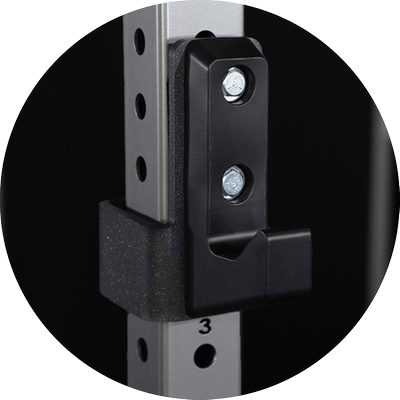 The Premium Bar Support is a welded ½" plate protected by an oversized, injection-molded urethane cover for bar protection. The landing area is a 2" resting zone that tapers to 1.5" for wider hand clearance. The finish is a durable high-wear charcoal powder coating with a chrome pin. The interior is wrapped with 3/8" urethane paint guards to prevent any metal-on-metal contact with the rack.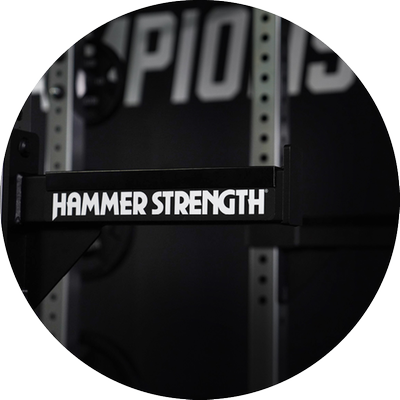 The Standard Half Rack Bar Catches are 18" (46 cm) in length and use a 3-sided urethane guard to shield the catch and the bar. The catch pins easily from the face of the rack and locks in place. The charcoal finish is a durable matte powder coating that includes paint guard tape to help protect the training uprights.
ASTM rated to 405 lbs.
Life Fitness Total Body Arc Trainer

Integrity SL Consoles only

Discover Consoles – 24V, 3.75A (90W) Attachable TV- 24V, 2.5A (60W) SL Non-Treads, Optional Power – 24V, 2.5A (60W)
HD ATHLETIC PRO RACKS & RIGS
HAMMER STRENGTH BENCHES AND PLATFORMS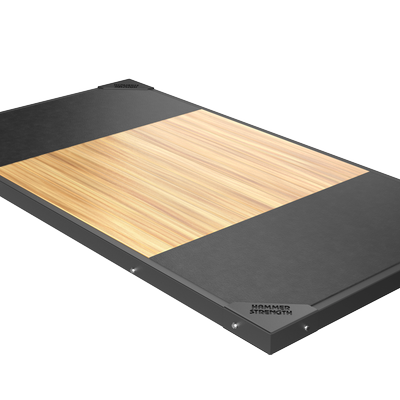 IMPACT SUPPRESSION PLATFORM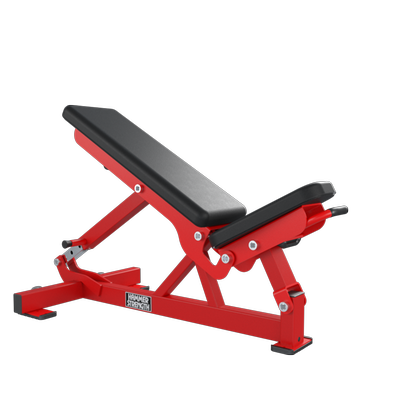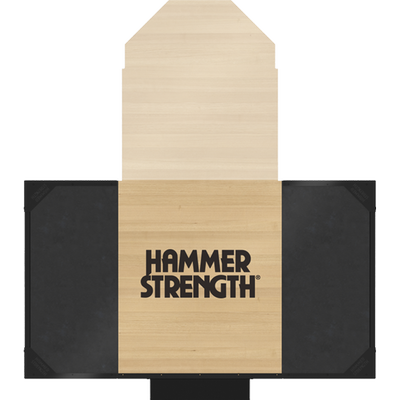 TRADITIONAL WOOD PLATFORM
The toughest Hammer Strength racks, built to a higher standard. Rugged HD Elite racks can withstand whatever elite athletes dish out. They're constructed to exceed industry standards and have the highest load ratings of any Hammer Strength racks.
BUILD YOUR PERFORMANCE SPACE
Discover how Life Fitness transforms facilities to create memorable experiences for your exercisers.